Our knowledgeable staff are passionate about providing families guidance and support during the funeral planning process and well after the funeral. Together, we can honor your loved one's life while beginning your grief journey.
Elmhurst Community Funeral Home - THE AHLGRIM CHAPEL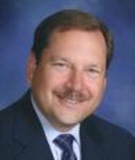 Scott Ahlgrim
Retired, Former Owner
A fourth generation funeral director, Scott joined the family business as a Licensed Funeral Director upon graduation from Worsham College of Mortuary Science. In March of 2020, he chose Chad Reuland and Eli Turnbough to continue his legacy and retired, where he can spend more time with his wife, children and grandchildren. He is Past President of the DuPage County Funeral Directors Association and has served on the Board of Directors of the Funeral Directors Service Association of Greater Chicago. Scott's civic involvement includes the DuPage Funeral Directors Association, Funeral Directors Service Association of Greater Chicago, Illinois Funeral Directors Association, National Funeral Directors Association and the Order of the Golden Rule. Scott and his wife, Charity, are active members of Elmhurst's St. Peter's United Church of Christ and are active in several community service organizations. The couple has three children and three grandchildren.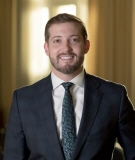 Eli J. Turnbough
Owner | Funeral Director & Embalmer
Eli grew up in the small town of Broadus, Montana. He attended Dickinson State University in North Dakota where he received his Bachelor's Degree in Business Administration with concentrations in banking and finance. While in college he served as Student Body President, was appointed by the Governor of North Dakota to his youth council, achieved All-American status in track and field and gained funeral experience at a local funeral home. He moved to Lake Forest in 2010 to attend Worsham College of Mortuary Science, soon after completing his degree in mortuary science he began assisting families in the Lake Forest and Lake Bluff area at Wenban Funeral Home. In 2015, his entrepreneurial interests led him to form a partnership with Chad Reuland to start a funeral business that meets the needs of today's families. Eli is the current president of the Northeastern Illinois Funeral Directors Association and has served on the board since 2012.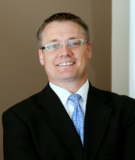 Chad R. Reuland CFSP
Owner | Funeral Director & Embalmer
Chad cherishes the time he spends and the relationships he is able to build when serving a family after a time of loss. Always giving the utmost care and respect to the deceased, he is also mindful of the survivors. Chad is continuously searching out other professionals who can help those survivors continue to heal. Chad has been committed to his career for over 20 years, serving the families of Lake Forest, Lake Bluff and all of Chicagoland. A native of Northwest Iowa, graduate of Worsham College of Mortuary Science, licensed Funeral Director & Embalmer and Life Insurance Producer, Past President of Northeastern Illinois Funeral Directors Association, husband and father of two daughters, Chad is very proud to be a founding partner of Reuland & Turnbough and will be there in your time of need.
Reuland & Turnbough Funeral Directors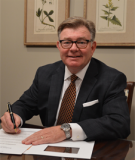 Michael Fitzgerald
Funeral Director | Funeral Celebrant
Mr. Fitzgerald was born, raised, and educated in Canada. In addition to managing large funeral homes in the Toronto area, Mr. Fitzgerald had a distinguished career including President, Ontario Funeral Service Association, lecturer at Humber College and Government Relations Representative for the Profession. He is also a Funeral Celebrant certified by the Insight Institute of Funeral Celebrants. Mr. Fitzgerald moved to the United States in 2005 and has practiced as a Celebrant in California, New Jersey and is a licensed Funeral Director in the state of Illinois.

His focus at Reuland & Turnbough will be At-Need & Pre-Need planning along with group presentations designed to help educate the public about the different options available for funerals today.
Muzyka & Son Funeral Home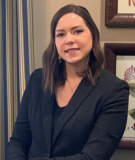 Melissa Jankiewicz
Funeral Director
Melissa grew up in the northwest suburb of Elmwood Park, Illinois and still currently resides there with her family. After the sudden and unexpected death of a close family friend, Melissa decided to change careers and enroll in mortuary school to become a Funeral Director. She graduated from the University of Illinois at Chicago with a Bachelor of Arts in English in May 2010, and then later graduated Worsham College of Mortuary Science in March 2017. She is a certified crematory operator with the Cremation Association of North America and hopes to become a certified grief counselor. In her free time, Melissa enjoys reading and relaxing, as well as attending Blackhawks and Cubs games and going to local concerts in Chicago. She also enjoys spending time with her family, her companion Chad, and her dogs Mia and Toby.